Friday, October 27, 2017
On Friday the 27th October 2017 STIPRO held its Annual Research Dissemination Workshop themed Innovation capabilities and interactive learning: The role of institutions. Building innovation capabilities becomes fundamental because firms with such capabilities are able to compete and survive in market places. Such capabilities are enabled by interactive learning as firms do not innovate in isolation. Developing countries, Tanzania included, are characterized by limited capacity to develop new, or to adopt and improve upon existing technologies; and consequently the vast majority is slow in sustaining increased production. Thus, institutions play an important role in the process of building firms' innovation capabilities.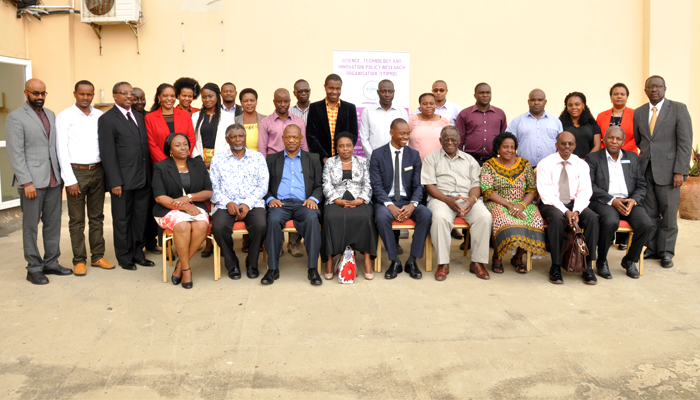 The event took place at the classical hall at Blue Pearls Hotel (Dar Es Salaam) and graced presence of National Institute for Productivity (NIP), Mr. Novatus Massao as a guest of Honor. STIPRO organizes a research workshop annually with the aim of disseminating research results, raising awareness of and engaging in dialogue with various stakeholders on issues around Science, Technology and Innovation. There were six presentations delivered and discussed during the workshop. The first presentation was a conceptual paper delivered by Dr. Vera Mugittu on Building innovation capabilities for agricultural development: The role of institutions'. Other presentations were from Dr. Gussai Sheikheld in on Reforming Public Technology Intermediaries in Tanzania: A Policy Learning Study'; Mr. Heric Thomas on Avocado Processing: Assessing the Role of Stakeholders in the Innovation System", Mr. Innocent Wawa on Understanding Knowledge Systems for Innovation: A Study on Business Ideas Developed by Business Incubators in Tanzania'; Ms. Lanta Daniel on 'Finance and Innovation: The Case of Micro and Small Sunflower Oil Processors' and the last presentation was on the ongoing project funded by the European commission on Integrated aquaculture based on sustainable water recirculating system for the Victoria Lake Basin which was delivered by Mr. Musambya Mutambala.The workshop ended at 17hrs with the executive director of STIPRO Dr. Bitrina Diyamett giving the closing remarks and thanked the participant for a vigorous discussions and participation.